FORTUNE POWER 12V150AH BATTERY

--- For solar power station/UPS/Telecom
Main Features for gel battery:
1. 3 years warranty at 35°C average
2. Able to operate at 60°C
3. Cycle usage: 50% DOD, 1000cycles, 30% DOD 2000cycles.
4. Design Floating Life 25°C: 15 years
5. Self-discharge is 2% ~ 3% per month.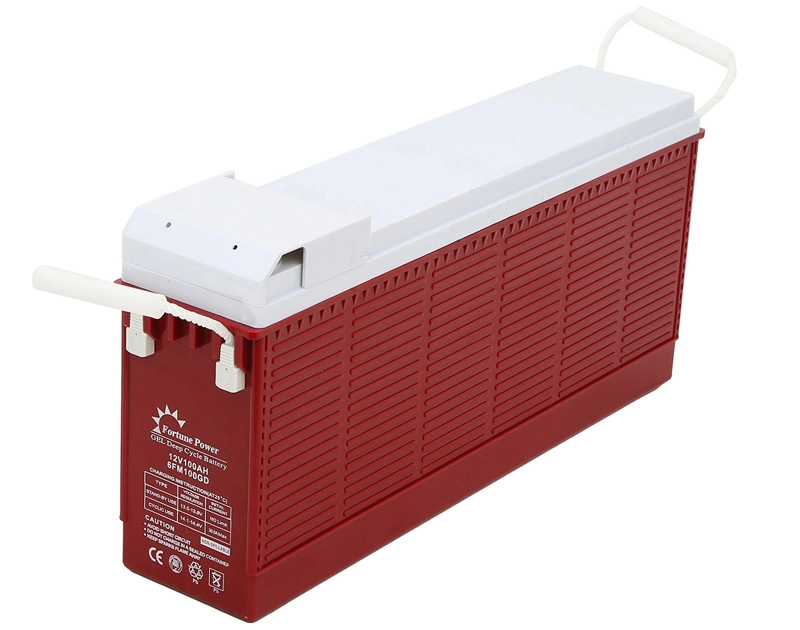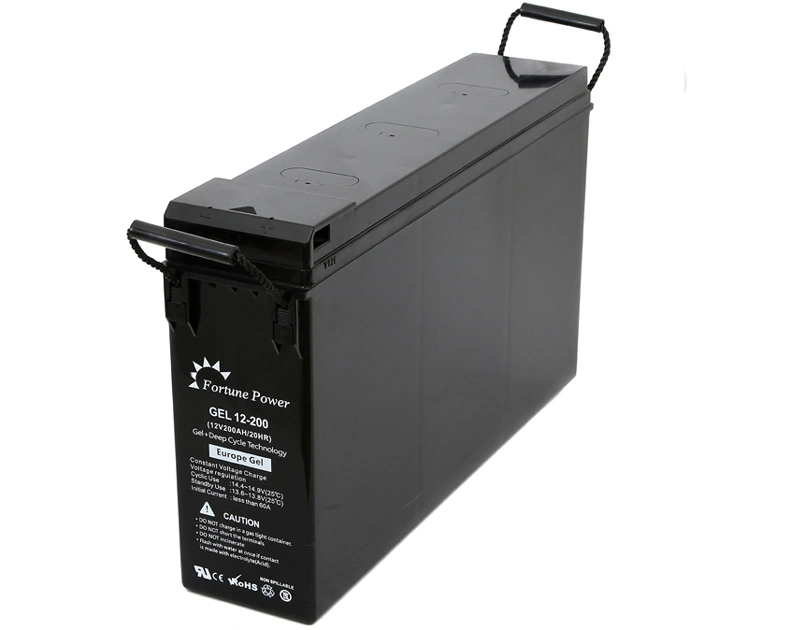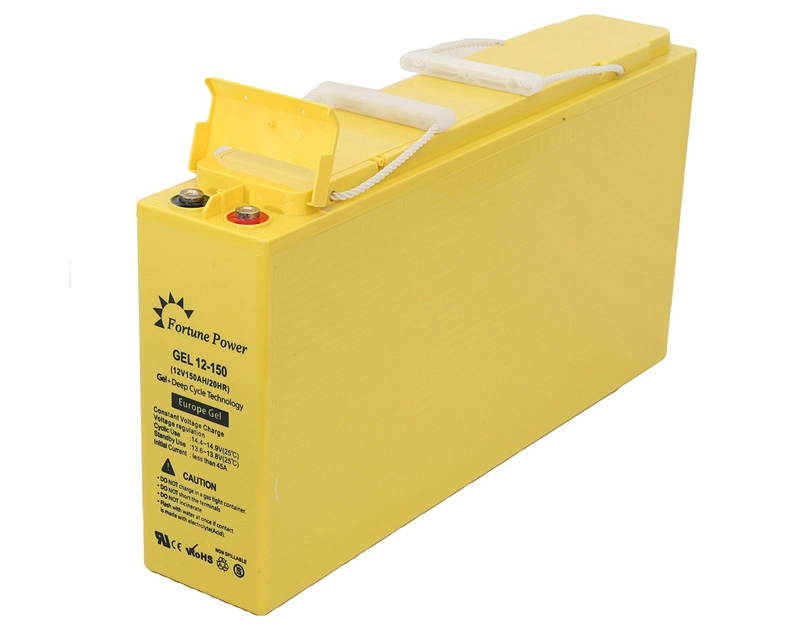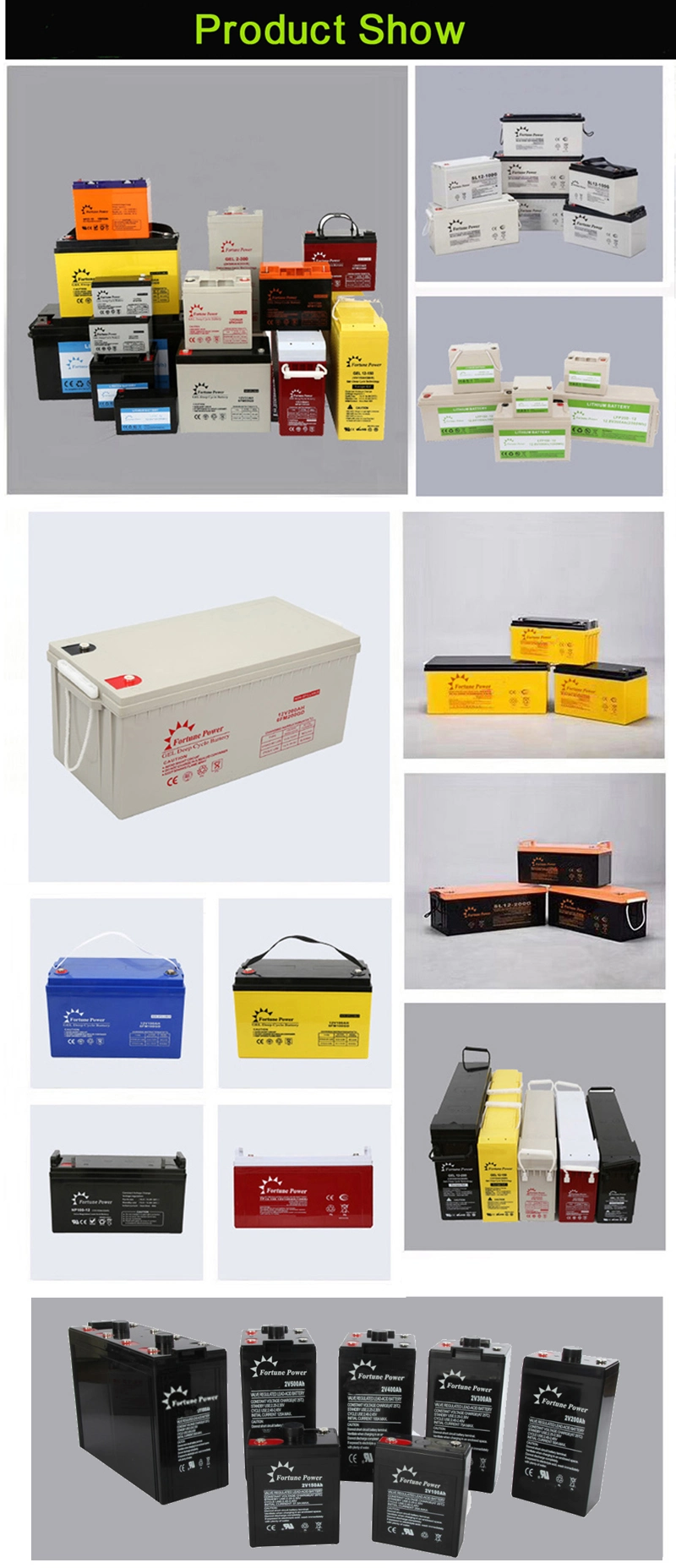 Nominal Voltage

12V

Rated Capacity (10 hour rate)

150AH

Size (Length*Width*Height*Total Height)

552*110*287*287MM

Weight Approx

44.0KG

Capacity 25°C




(77°F)

10 Hour Rate(9.0A)

150AH

5 Hour Rate(14.4A)

120AH

1 Hour Rate(54.0A)

90AH

1.5 Hour Discharge To 10.5V

60A

Internal Resistance

Full Charged Battery at 25°C(77°F)

3.8mΩ

Capacity Affected By Temperature




(10 Hour Rate)

40°C(104°F)

102%

25°C(77°F)

100%

0°C(32°F)

85%

-15°C(5°F)

65%

Self-Discharge at 25°C




(77°F)

Capacity after 3 Month Storage

91%

Capacity after 6 Month Storage

82%

Capacity after 12 Month Storage

64%

Terminal

T11

Cycle Charge




(Constant Voltage)

Initial Charging Current Less Than 80A

Voltage 14.40-14.80V (Time 14-16h)

Float Charge




(Constant Voltage)

Voltage 13.50-13.80V

Warranty

3 Years

OEM Service

Accept

Color

Black, Gray, white

Certificate

CE; UL; ISO9001; ISO14001; TLC; Solar Product Certificate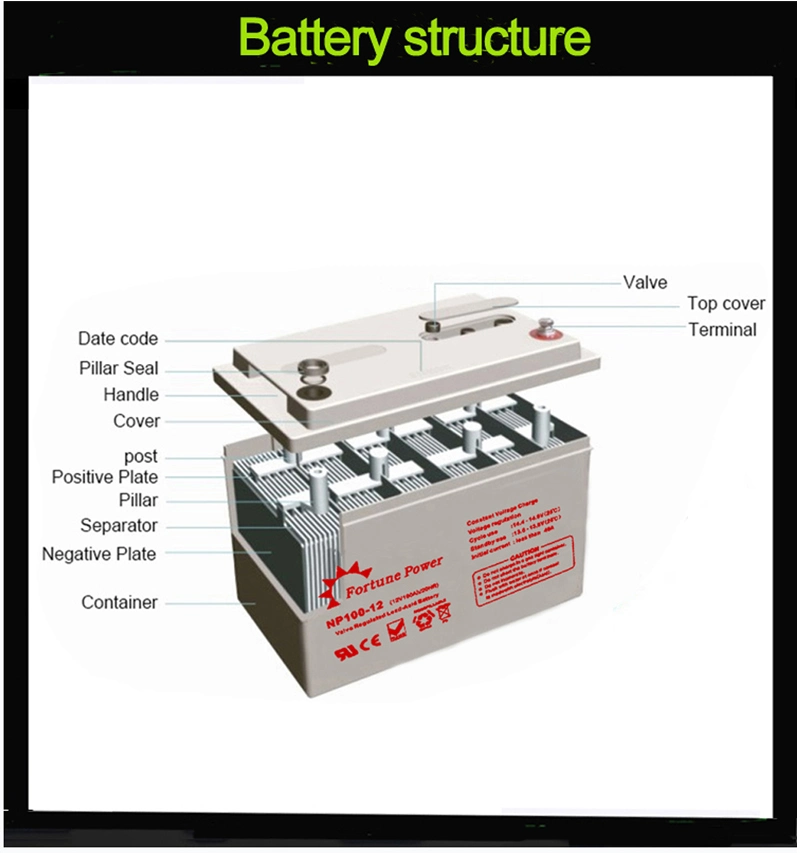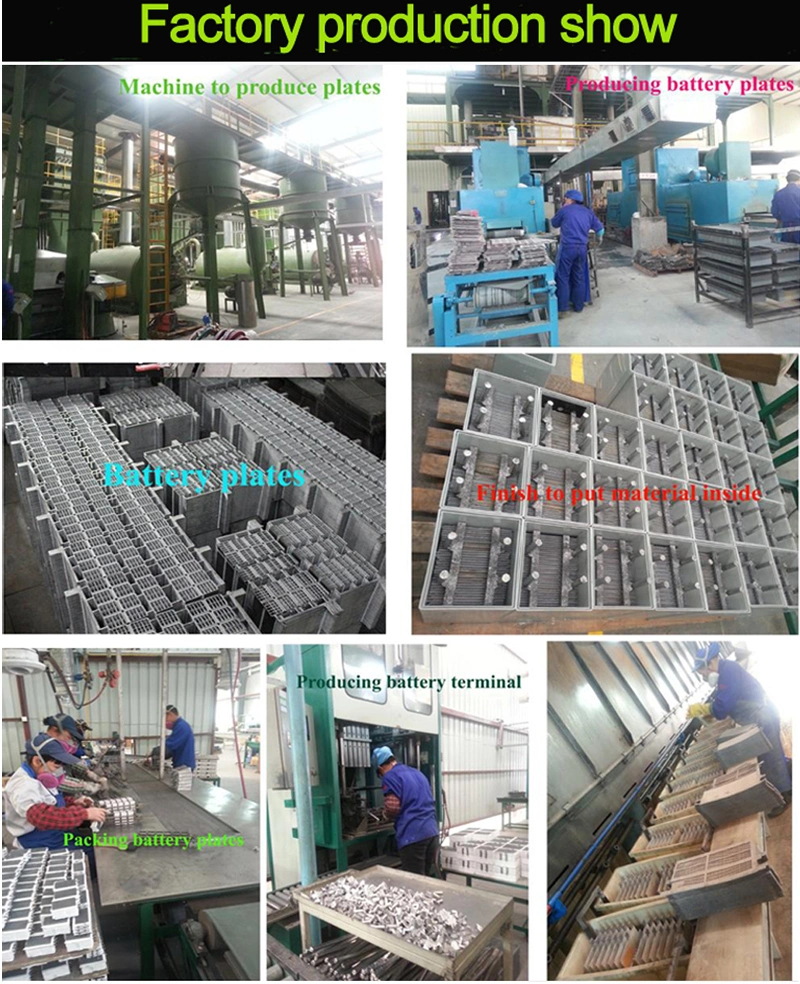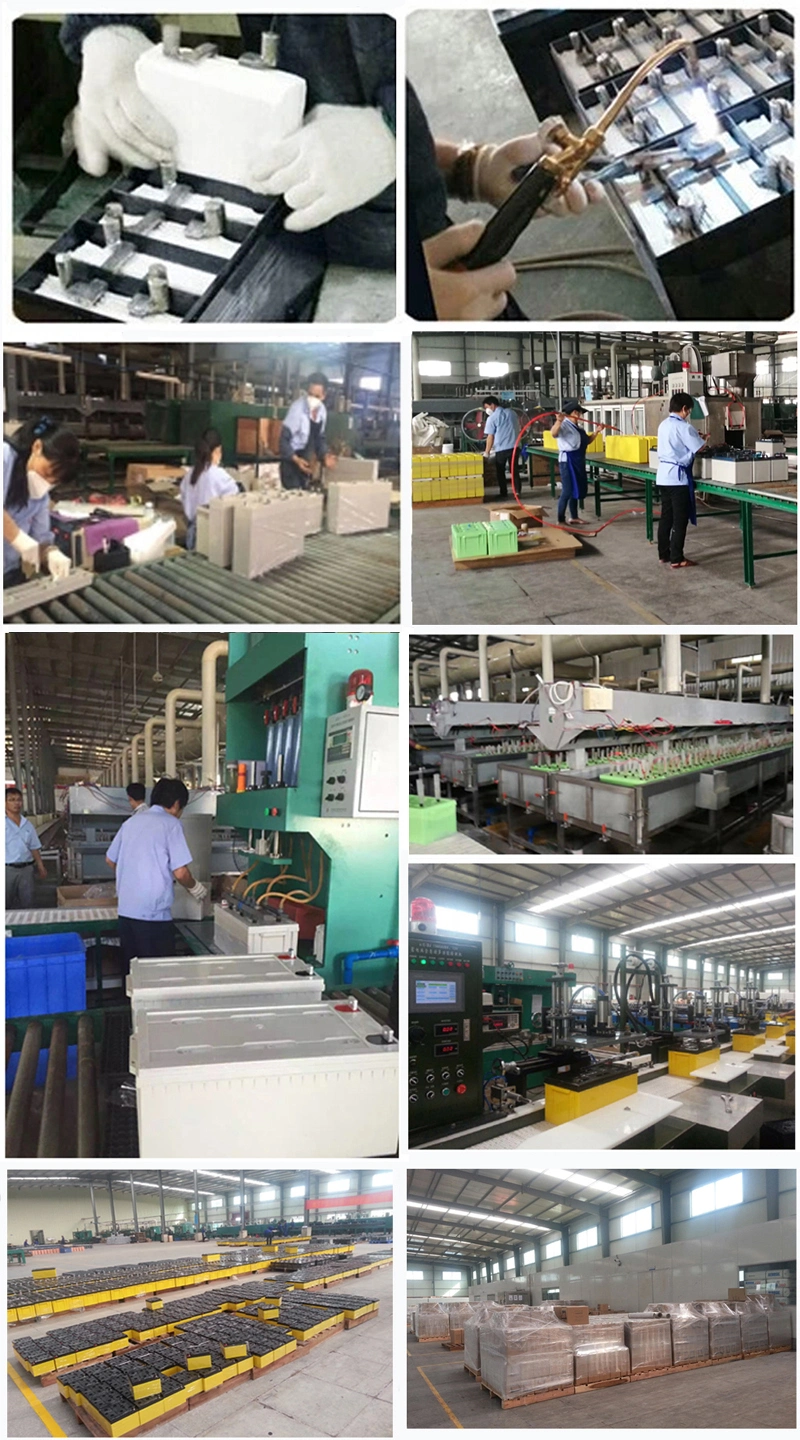 Product Application

Fortune Power Mainly Applied For:
1.Solar power system(off-grid solar power system, solar street light system, solar garden light system)
2.Wind Power System
2. UPS and computer backup power
3. telecommunication system
4. Power station System
5. Railway System
6. Emergency lighting system
7. Automatic control system
8. Alarm system for fire protection, security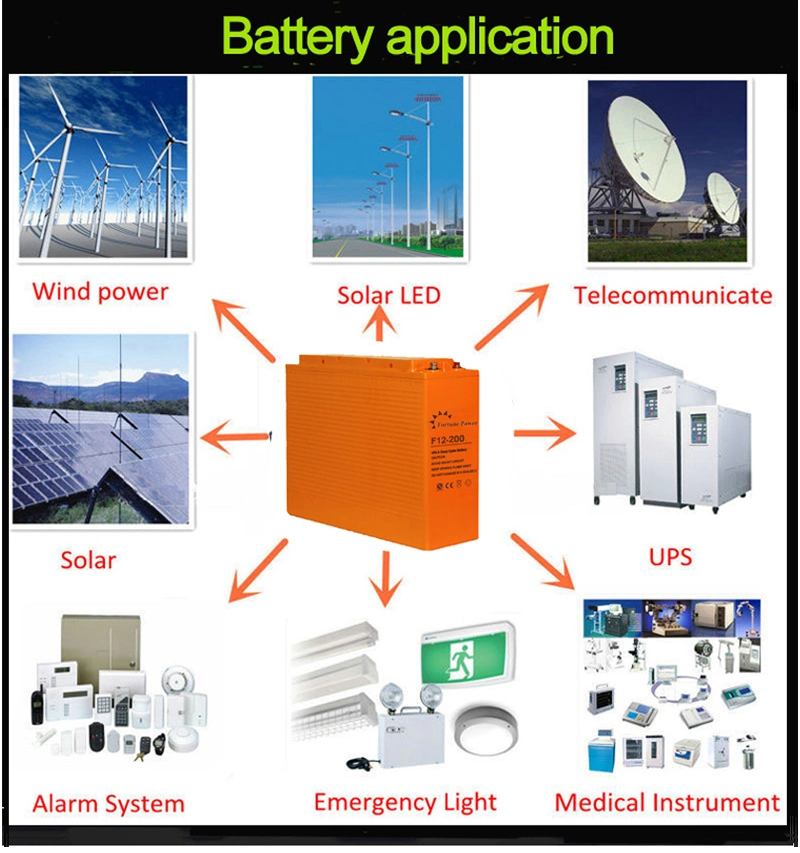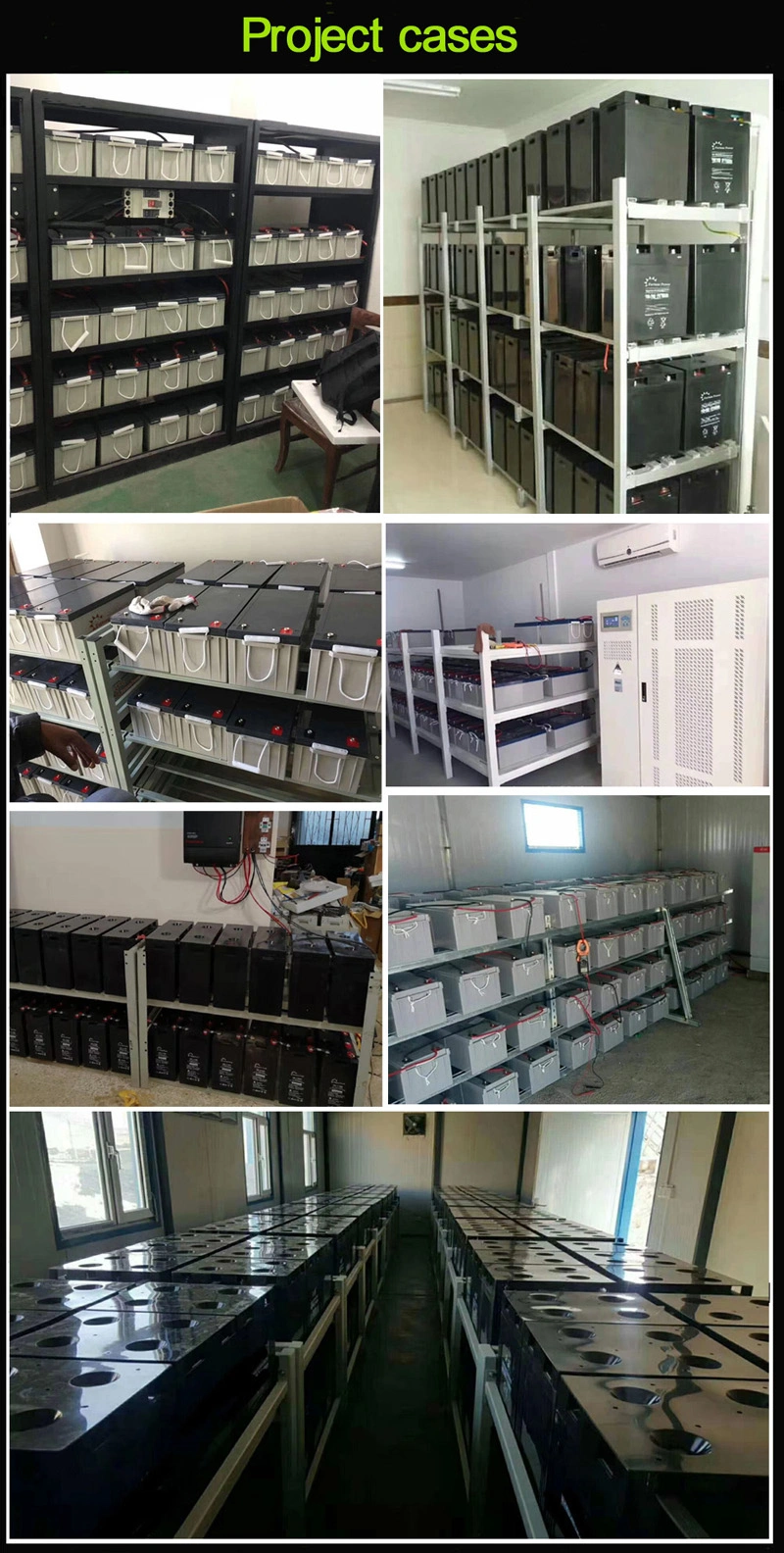 Storage and installation
1.Fortune Power battery is not in use should remove the cable, pole jacket cover and wipe clean;
2.once every three months for Fortune Power battery to maintain charging, constant voltage charging method for limiting law, the initial charging current is 0.1CA, the charging voltage is 2.4V / single cell (25 ºC when);
3.Fortune Power battery should be stored in dry and ventilated place, away from direct sunlight and away from heat sources;
4.when handling batteries even force, the force of the housing portion of the battery to avoid damage to the pole;
5.the installation should use insulated tools to prevent click.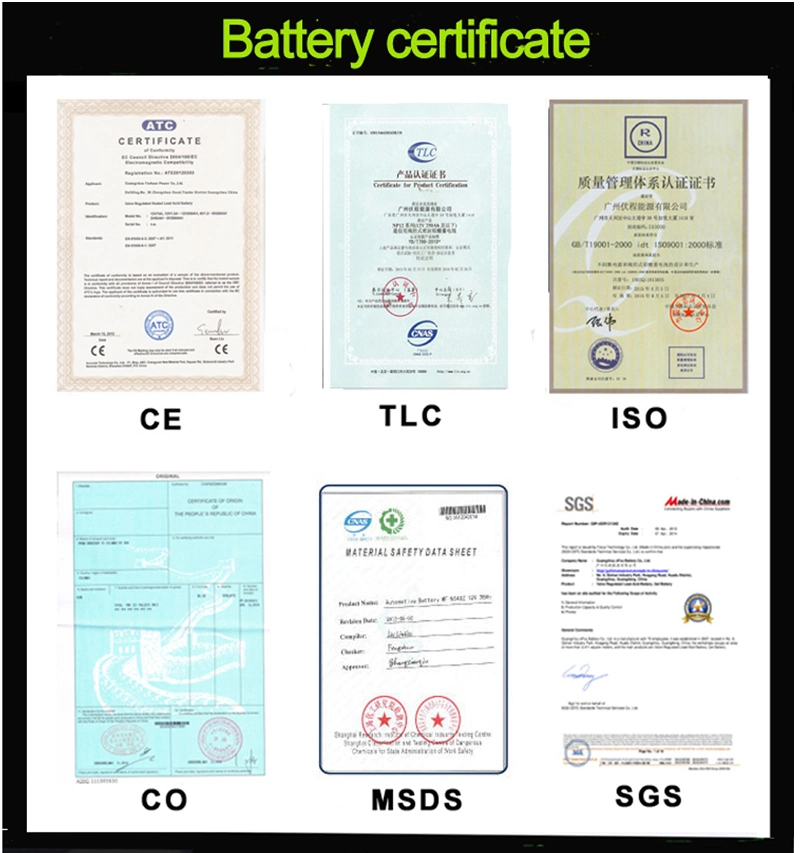 FAQ
Q1. Are you the manufacturer?
Yes, we are the leading manufacturers in Guangzhou.
Q2. What kinds of battery do you have?
We have AGM Battery, GEL Battery, UPS Battery, Solar Battery, Lead Acid Battery…
Q3. What is your product series range?
12V 1.2Ah-250Ah
6V 1.2Ah-220Ah
2V 100Ah-3000Ah
Q5.What is your products advantage?
We produce lead plates by ourselves, we control the quality strictly. Offer you excellent quality with reasonable price and good service.
Q6.How about the warranty of your products?
3 years warranty since shipping day.
Q7.Do you offer samples for testing?
Yes, we offer free samples for testing, but the clients need pay the freight.
Q8.Is it available for OEM service?
Yes, registered brands from reliable client are available.
Q9.What certificates do you have?
We have CE,ISO,SGS,UL,CQC certificates.


Fortune Power, Healthy Life!