Solar Power Battery Deep Cycle Lithium Ion Batteries Li Ion EV Battery Pack 12V 24V 36V
Chris


1.Example of 48v 20ah/60v 50ah/72v 60ah motorccyle/ escooter lifepo4 battery
| | | | | | |
| --- | --- | --- | --- | --- | --- |
| Voltage | Capacity | Energy | Size | Weight | Discharge current |
| 48v | 20ah | 1.024kwh | 173*162*260mm | 9.5kg | 10A-20A |
| 60v | 50ah | 3.04kwh | 360*360*170mm | 32kg | 25A-50A |
| 72v | 60ah | 4.608kwh | 484*214*215mm | 37kg | 30A-60A |
other voltage and capacity also avalible, kindly advise us what you need, we can provide you!
2.battery cells catalog
We have over 30 types of cells, not only pouch cells, others like prismatic cells(aluminium cells and plastic cells ) and cylindrical cell(18650 battery) also availiable if u need.
This cells could assemble lithium battery pack from 12v-96v, 10ah-1000ah.
Battery type

Capacity

Size(mm)

Weight(g)

Charge/Discharge rate

NMC




pouch battery

10AH

8.8*65*190

205

1C/1C

10AH

6.6*118*155

238

3C/5C

10AH

6.8*68*270

249

3C/5C

20AH

7.5*160*232

496

1C/3C

20AH

6.0*160*180

480

1C/1C

20AH

8.2*130*208

473

1C/1C

26AH

10*181*241

740

5C/8C

32AH

11*181*241

780

3C/5C

32AH

Hot sale




8*156*241

590

1C/3C

40AH

10*160*227

800

1C/3C

40AH

10*186*260

857

3C/5C

40AH

8.5*188*236

760

1C/1C

Lifepo4




pouch battery

10AH

9.5*90*150

239

2C/5C

10AH

8.0*68*270

266

4C/6C

20AH

Hot sale




8.3*142*240

485

1C/1C

20AH

6.5*160*227

465g

2C/3C

20AH

9.2*126*236

492

1C/3C

20AH

8.3*150*170

490

1C/3C

25AH

8.5*137*232

560

2C/3C

25AH

9.0*133*200

580g

1C/3C

30AH

9.0*160*222

665

1C/3C

30AH

9.2*170*240

690

1C/3C

38AH

10*160*222

770

2C/3C

40AH

8.5*188*236

1kg

1C/1C

50AH

32*203*173

1.65kg

1C/1C

50AH

32*173*128

1.35kg

1C/1C

60AH

60*150*165

1.8kg

1C/1C

80AH

60*150*200

2.7kg

1C/1C

100AH

60*150*215

3.1kg

1C/1C
3.Advantages
1. Low internal resistance
Methods of reducing the internal resistance:
**Using carbon coated aluminum foil
**Multiple electrode tab design
**Increasing the width of electrode tab
**Coating PVDF on battery separator
**Pore-creating artificially


2.Long lifespan
Usable for more than 2,000 charge-discharge cycles
> 4 times than lead acid battery
> 2 times than li ion battery


3.Excellent performance in high and low temprature
Usable in extremely cold and hot environments (-20 to 60 ºC)
4. Some Related Application Case
Each battery module in parallel is fixed with steel parts,then put them together by pull rob.After this,there are covers to protect battery with case and BMS.
We support OEM
(12-400V,20AH-160AH)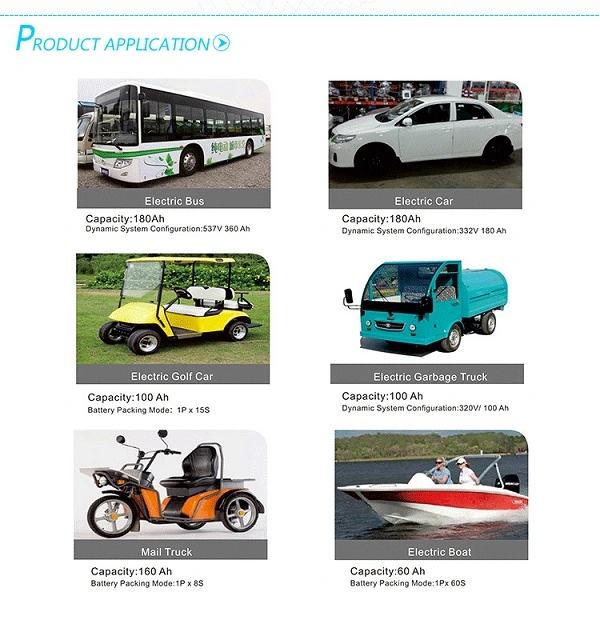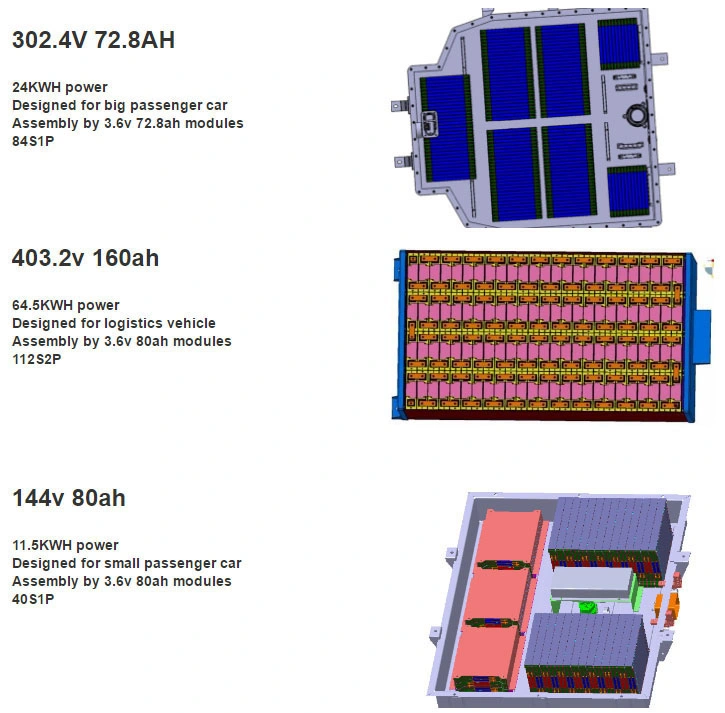 5. Our company introduction


The largest lithium-ion battery production base for new energy vehicles.

CTS Power Technology Co,Ltd. is a professional manufacturer engaging in research,development,production,marketing and service of lithium ion pouch battery cell, battery pack and battery management system.Those products are widely used in EV,HEV,UPS,solar and wind system and remote control products.

Located in Hunan National Economic Development Zone in 2012, CTS power has registered capital of RMB 50 million and been proved by government to be a national high tech enterprise.

CTS Power has more than 800 staffs,including 20 advanced managing people, more than 40 development and research engineers.It has building area of 120,000 square meters and 3 factory bases ,those are,Ningxiang base ,Changsha base and Shengyang base.

We has been pursuing quality policy of continuous innovation and improvement to meet customer's requirements.To realized full automation, we has introduced advanced foreign equipment and technology from Korea and Germany. To ensure the best quality,we has passed I S O 9 0 0 1 , I S O 1 4 0 0 1 and O H S A S 1 8 0 0 1 certifications.

Not only in local market,our products are also exported to abroad market like Euro,USA,India,Australia,Korea. Our sales volume reached 100 millions in 2015.

We stick to the company concept of human orientation and efficient innovation and we welcome customization.So, lets join together to promote the development of renewable energy and friendly environment.
6. CTS Customer Feeback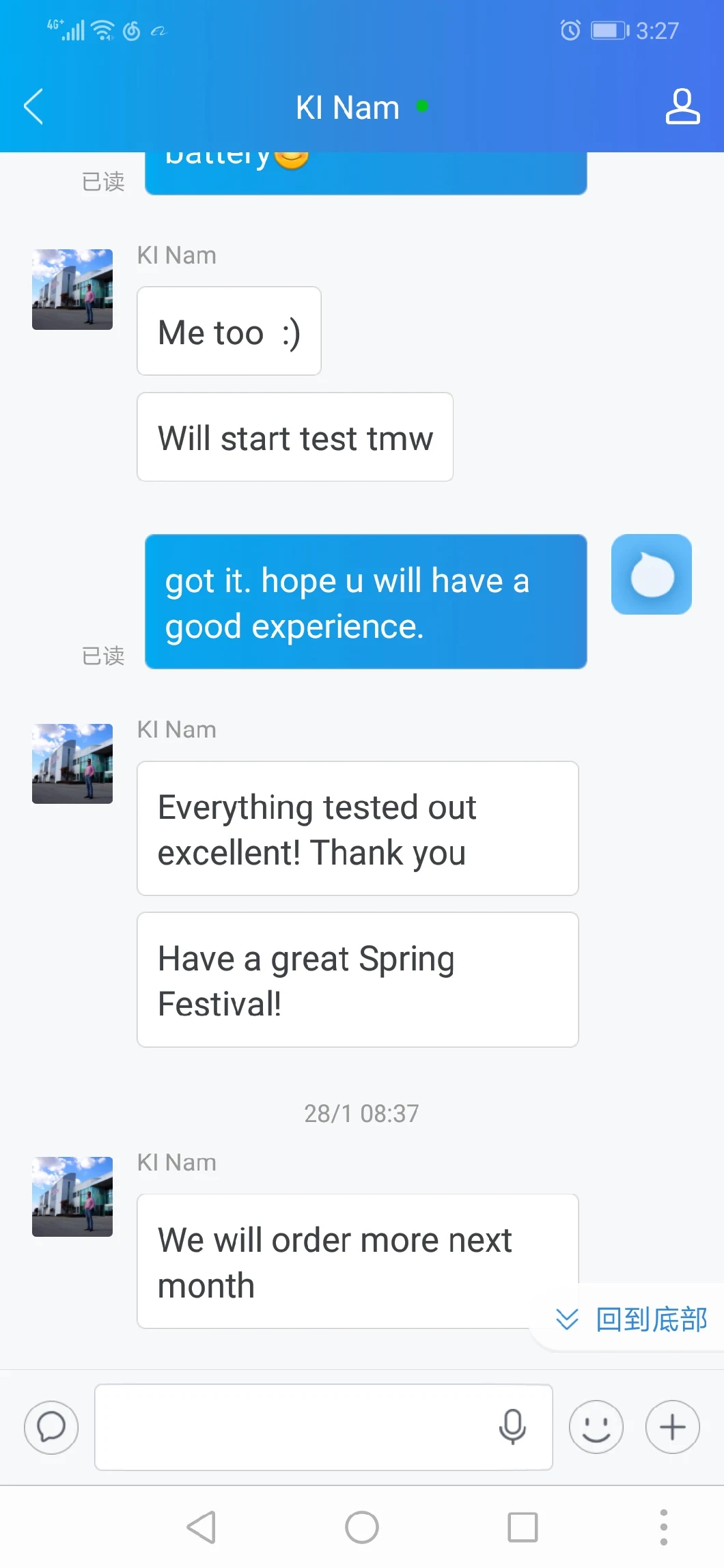 Sample is avaliable and welcome.
Trade term: FOB Shenzhen or Guangzhou; EXW, CIF,DDU and DDP are available.
Delivery time: 7 working days for sample order, 15- 25 working days for mass order.
Do the batteries have a warranty?
§ Yes, currently 2 years; extended warranties are also available.

How long do the batteries last?
§ 10 years / 200,000 KM (124,275 miles) [calculated based on 100km battery pack]
§ 2000 charges & discharges at 100%.
§ This means approximately 10 years of normal use 200,000 KM. (124,275 miles)
§ Normal use is defined as 20,000km/year. (12,500 miles/year)

Do you use Lead Acid Batteries?
NO WE DO NOT! Our reasons:
§ Lead Acid Batteries do not allow as many charge & discharge cycles as advanced lithium batteries
§ Lead Acid batteries degrade after 300 charge cycles in an electric car until they expire, approximately 1.5 -2 years of driving
§ Not cost effective to change your battery pack every two years
§ Lead Acid is HEAVY, and reduces your range, doesn't supply continuous power
Welcome you to visit our production base and to check our production lines!
If any requirements on those

Solar Power Battery Deep Cycle Lithium Ion Batteries Li Ion EV Battery Pack 12V 24V 36V


Sales Manager: Chris
Tel: +86 1557519504